November 25, 2015
Paul Kaufman 50 Year Award Presented
Congratulations to Brother Paul Kaufman, Urania Lodge 311 newest 50 year member.
Paul began his journey in Masonry back in 1966. He was an employee of Ranco in Plain City until 1980 when Ranco moved to Mexico. His wife Dora was by his side during the presentation.
For many years Paul has been our "Ships Captain and Wayfaring Man" while performing the degree work.
…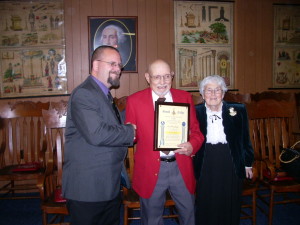 RWB Shawn Johnson District Deputy Grand Master & Worshipful Master Jeremy Graham presented the award & recognition from the Grand Lodge of Free and Accepted Masons of Ohio representing MWB Grand Master Robert C. Rill, Jr..
Looking on were members & wives of Urania Lodge including WB Douglas Kirk President of the 9th Masonic District and 9th District Education Officer WB David Waggoner, RWB Fred Kile PDDGM & Secretary of the Scottish Rite, Valley of Columbus as well as a member of Urania. Thank You for making this a memorable occasion.
Congratulations Paul!